Innovation Leaders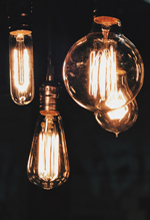 Innovation Leaders is a section of Ubiquity that consists of interviews of young professionals, who comment on their concerns about the future of computing and their ambitions to shape the future through their leadership. We probe how the interviewee's big concern grew up in their history, what they are doing about it in the present, and what ambitions and plans they have for shaping the future. Through this section, we aim to give voice to the many moving and compelling stories our young professionals are bringing to their work and our field.
In addition to the written interview, we offer each interviewee the opportunity to make a podcast of themselves reading their own interviews. Podcasts appeal to many busy young professionals who can listen while they are walking or commuting. The podcasts are linked to the interview page when it is published.
Our innovation leader interviews are made visible to a large community through our Facebook page and Twitter channel.
If you are interested in being interviewed as an innovation leader, contact our section editor, Bushra Anjum. She can be reached via Twitter @DrBushraAnjum.
Articles
A conversation with Richard Skarbez: the elements of compelling virtual (immersive) experiences


by Bushra Anjum
January 2020

In this series of interviews with innovation leaders, Ubiquity Associate Editor and software engineer, Dr. Bushra Anjum sits down with Dr. Richard Skarbez, a lecturer in the Department of Computer Science and Information Technology at La Trobe University, to discuss augmented, mixed, or virtual realities and how users interact with such technologies.
A conversation with Marianna Obrist: using touch, taste and smell in virtual and augmented experiences


by Bushra Anjum
August 2019

In this series of interviews with innovation leaders, Ubiquity Associate Editor and software engineer, Dr. Bushra Anjum sits down with Marianna Obrist, who is exploring augmented and virtual reality within the context of HCI. Obrist discusses multi-sensory interactions that go beyond sight and sound, as well as her work that explores the role of human senses in the design of future technologies.
An interview with Jason Ernst: incentives of a decentralized networking infrastructure


by Bushra Anjum
April 2019

In this series of interviews with innovation leaders, Ubiquity Associate Editor and software engineer, Dr. Bushra Anjum, sits down with Jason Ernst, CTO of RightMesh, to discuss how his company is using mobile mesh networks to decentralize existing network infrastructure in areas where it doesn't exist or is too expensive to maintain--effectively putting the control of data in the hands of the people.
An interview with Indrajit Roy: toward self-correcting systems


by Bushra Anjum
February 2019

Indrajit Roy is a staff engineer at Google. He is currently working on peta-scale distributed databases. Previously, he was a principal researcher at HP Labs where he led the development of Distributed R, an open source HP product that brings the benefits of parallelism to data scientists. Roy received his Ph.D. in computer science from UT Austin. He is also an inaugural member of the ACM Future of Computing Academy.
An interview with Lauren Maffeo: understanding the risks of machine learning bias


by Bushra Anjum
January 2019

Lauren Maffeo is a research analyst who joined the global technology sector in 2012. She started her career as a freelance journalist covering tech news for The Next Web and The Guardian. She has also worked with CEOs of pre-seed to profitable SaaS startups on media strategy. Lauren joined GetApp, a Gartner company, as a content editor in 2016. She covers the impact of emerging tech like AI on small and midsize business owners.

Lauren has been cited by sources including Forbes, Fox Business, DevOps Digest, The Atlantic, and Inc.com. In 2017, Lauren was named to The Drum's 50 Under 30 list of women worth watching in digital. She holds an M.Sc. from The London School of Economics and a certificate in Artificial Intelligence: Implications for Business Strategy from MIT's Sloan School of Management.
An interview with Pamela Wisniewski: making the online world safer for our youth


by Bushra Anjum
December 2018

Dr. Pamela Wisniewski is an assistant professor at the University of Central Florida's Department of Computer Science and an inaugural member of the ACM Future Computing Academy. As a human-computer interaction researcher, she studies privacy as a means to protect people, but more importantly, as a social mechanism to enrich online interactions that people share with others. She is particularly interested in the interplay between social media, privacy, and online safety for adolescents. Being a survivor of childhood sexual abuse, she is committed to protecting at-risk youth from online sexual predation risks, as well as empowering vulnerable youth online, so that they can garner the resources and support they need to overcome adversity and succeed in life.
An interview with Bushra Anjum: learning to be a generalist is valuable to your career


by Peter Denning
November 2018

Dr. Bushra Anjum is a senior editor for ACM's web-based magazine Ubiquity. Her research background is in performance evaluation and queuing theory. She is also a trained data scientist, having worked extensively with predictive analytics. Anjum, a Fulbright Scholar, has previously held academic positions in the U.S. and Pakistan, and is a keen enthusiast of promoting diversity in the STEM fields. She is a mentor at Rewriting the Code, GlobalTechWomen, ReigningIt, Empowering Leadership Alliance, LeanIn.org, Computing Beyond the Double Bind's mentoring network, and others. Dr. Anjum can be contacted via Twitter @DrBushraAnjum.