Communication Corner
Each "Communication Corner" essay is self-contained; however, they build on each other. For best results, before reading this essay and doing the exercise, go to the first essay "How an Ugly Duckling Became a Swan," then read each succeeding essay.
A "naked" presentation solely relies upon good storytelling. Learn how to enrapture an audience without the use of visual aids.
...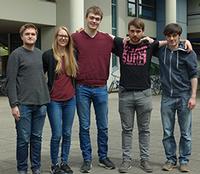 Interview
Vehicle emissions tests used to be done entirely in the laboratory. However, certain car manufacturers cheated on those tests. In response, the European Union introduced emissions tests in real traffic. To make such tests meaningful, they must be performed on routes that meet certain criteria, such as the difference in elevation between start and end points and the proportion of urban and country roads. Finding suitable routes is a complex search problem. Undergraduate students from Karlsruhe Institute of Technology, Germany, developed the first fully automatic solution for finding such routes. In this interview, they share how they did it.
...