Innovation Leaders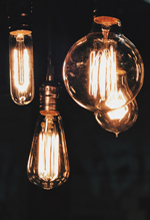 Innovation Leaders is a section of Ubiquity that consists of interviews of young professionals, who comment on their concerns about the future of computing and their ambitions to shape the future through their leadership. We probe how the interviewee's big concern grew up in their history, what they are doing about it in the present, and what ambitions and plans they have for shaping the future. Through this section, we aim to give voice to the many moving and compelling stories our young professionals are bringing to their work and our field.
In addition to the written interview, we offer each interviewee the opportunity to make a podcast of themselves reading their own interviews. Podcasts appeal to many busy young professionals who can listen while they are walking or commuting. The podcasts are linked to the interview page when it is published.
Our innovation leader interviews are made visible to a large community through our Facebook page and Twitter channel.
If you are interested in being interviewed as an innovation leader, contact our section editor, Bushra Anjum. She can be reached via Twitter @DrBushraAnjum.
Articles
A conversation with Heena Rathore: building secure cyber-physical systems


by Bushra Anjum
November 2022

Ubiquity's senior editor Dr. Bushra Anjum chats with Dr. Heena Rathore, assistant professor in the Computer Science Department at Texas State University, on how cyber-physical systems (CPS) are inherently similar to humans in their reliance upon sensing their environments and making decisions. They further discuss how this similarity motivates the exploration of novel AI algorithms inspired by the principles of cognition and neuroscience to ensure the security of critical CPS infrastructure, such as IoT networks, medical devices, and connected vehicles.
A Conversation with Shaimaa Lazem: toward inclusive design methodologies for technology


by Bushra Anjum
September 2022

Ubiquity's senior editor Dr. Bushra Anjum chats with Dr. Shaimaa Lazem, an associate research professor at SRTA-City Egypt. They discuss how computer science curricula should aim at increasing students' sensibilities and appreciation of the differences in the worldviews, skills, and abilities of technology users; as well as teach students how to harness and embrace these differences in technology design.