Communication Corner
Each "Communication Corner" essay is self-contained; however, they build on each other. For best results, before reading this essay and doing the exercise, go to the first essay "How an Ugly Duckling Became a Swan," then read each succeeding essay.
In this installment, Philip Yaffe introduces a two-step plan to create well-written text that will not only impress the reader, but also engage the reader to digest and comprehend new ideas or concepts with ease.
...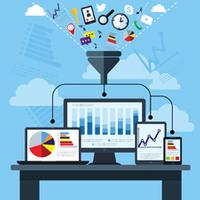 Symposium
The ability to leverage diverse data types requires a robust and dynamic approach to systems design. The needs of a data scientist are as varied as the questions being explored. Compute systems have focused on the management and analysis of structured data as the driving force of analytics in business. As open source platforms have evolved, the ability to apply compute to unstructured information has exposed an array of platforms and tools available to the business and technical community. We have developed a platform that meets the needs of the analytics user requirements of both structured and unstructured data. This analytics workbench is based on acquisition, transformation, and analysis using open source tools such as Nutch, Tika, Elastic, Python, PostgreSQL, and Django to implement a cognitive compute environment that can handle widely diverse data, and can leverage the ever-expanding capabilities of infrastructure in order to provide intelligence augmentation.
...